Mobile Self-service Automated Gas Stations manufactured within the transport containers with standard ISO dimensions.

Mobile Self-service Automated Gas Stations MGST are reputable for its sturdiness, high security and a fast and easy installation. Our petrol stations can be used in every field of professional petrol supply as they have extensive international licences. The tanks of the petrol stations can storage all popular mediums like gasoline, diesel, bio-diesel, kerosene, and vegetable oil.
Standard version of the gas station container consists of a sturdy frame with ISO corners. The robust and cubical steel body (S235 JR) is double walled and protected with oil from corrosion on the inside and treated with a two component coat (for example RAL 9010) on the outside. The standard ISO dimensions of the transport container allow a very troublefree cost effective transport by road, rail or ship. Up- and unloding by crane is made possible by the integrated ISO corner fittings on the upper corners.
Mobile Self-service Automated Gas Stations MGST – Modern self-service automated petrol stations that exced the "conventional petrol stations" in every way with its technical and operational solutions. They represent a new modern self-service solutions of vending, respectively dispensing machine of fuels.
Mobile gas station MGST is not a building, but a product which has all the components located compactly on the earth surface. Thanks to the mobility, itcan be placed based on the wishes of the investor or operator under the terms of operational safety documentation and requirements of the relevant authorities on any paved surface.
As preferred are the petrol stations MGST available with single or double-chamber tank system with volume 8000 – 50 000 litres. If required additional niches can be build in the tank as well as an office room for staff. The integration of an additional electric generator set is also possible. By mounting special equipment like heat insulation, electrical tank heating, filters, pumps and control of the entire installation, a special chemical resistant coating or equipment for easily flammable material or mediums, the containers can be adapted individually to the respective locations as well as to their different usage conditions.

Standard single-chamber tank volumes are from 8 000 liters up to as needed.
Standard double-chamber tank volumes are:
10 500 litres petrol, 10 500 litres diesel
24 000 litres petrol, 24 000 litres diesel
8 000 litres petrol, 8 000 litres diesel, 6 000 litres ADBlue
22 500 litres petrol, 22 500 litres diesel, 6 000 litres ADBlue
Our petrol stations provide the same comfort of use than conventional stations. However, they exceed them in many aspects!
Petrol stations MGST are very mobile because the entire hardware, which means fuel tanks, necessary armatures, dispensers with counter, fuel generators, control and regulating systems (etc.) are fitted in one container with which one can quiet easily manipulate, but tanks must be emptied.
Along with is the entire device autonomous and has built-in safety systems – the necessary lighting, emergency stop, ventilation system and fire alarm system with fire extinguisher.
Petrol stations MGST are very flexible and modular. Not only their manufacturing is very fast, you can arrange them arbitrary according to your own needs and wishes. During the operation hey can be easily adapted to changing needs. Effortlessly it ispossible, as appropriate, to increase or reduce the required tank volume of the petrol station. The station can be extended by purchasing another one petrol station, for which there is no need for additional permissons. These autonomous devices can be interconnected, that contributes to increase the volume and also another fuel dispenser appears, therefore will increase the dispensing capacity and overall efficiency of the station. The modularity of devices allows to purchase only storage tanks without dispensers, which can be interconnected to the existing petrol station. A larger volume of fuel are purchased cheaper, thus you can increase your profits!
If the petrol station loses its significance at the location, it can be easily removed to the another location and continue in operation. Or it is possible to simply resell this station. Thanks to quality manufacturing and realization have our Mobile Self-service Automated Gas Stations MGST high value even after several years of operation.

Mobile petrol stations MGST can be operated on any paved surface along roads, respectively in car parks, 24 hours a day, 7 days a week throughout the whole year without any break.
For the operation is necessary approx. 100 m2 paved surface without any connection to the public distributions. The pumping equipment can be supplied by its own aggregate or by batteries using solar panels (in extreme cases it can be connected to the public electricity distribution network). The sale, respectively dispensation of fuels ensures payment terminal for credit cards or smart chip terminal for chip cards. The transfer of payment information mediates built-in GSM gateway. Mobile Self-serice Automated Gas Stations MGST are fully autonomous devices, thus to their operation is no need to pay additional staff, which reduces operating costs.

Installation of the Mobile Self-service Automated Gas Station MGST is very simple and fast:
The

pumping equipment

(tanks

with pumps

and

the necessary technical equipment

)

is

transported

in

the

transport container

to its destination

, where

is

with the help of

a crane

unloaded from

a truck

and may be

immediately put into operation (time required for the installation

is

maximally

1 day

)

.

Roofing, heated access ramps, payment terminals, camera and alarm systems (

all

required

optional ACCESSORY

) are installed after import of the pumping equipment and its placing at the designated position.

It is

necessary to prepare the

underlying

surface right b

efore the importation of

the pumping

equipment. The petrol station must be placed on a sufficiently solid concrete slab, or strip foundations (time required for the installation is up to 1 week).
Technical specifications of the Mobile Self-service Automated Gas Station MGST:
Performance

of dispensing

from 80 to 120 l

/

min.

Standard tank volume

from 8 000 to 50 000 litres (more if required)

Leveling frame
Roofing, heated and lighted dispensing areas
Manipulation area
Modules of dispensing & software
Electronically

ensure

evidence of dispensed

fuels

Protected data transfer
Inputs and outputs

are monitored by

special sensors

Intercepting and

emergency

absorber

(drain)
High safety thanks to double-wall construction
The container has a double wall construction from the robust steel S 235 JR, which effectively protects against accidental fuel discharge. For the best security a vacuum leak monitoring is integrated into our mobile gas stations MGST. If the container is damaged recognizes the electronic leak detector vacuum the vacuum decay and ensures that both visually and acoustically alarm is triggered.
ADVANTAGES
Simple construction – All equipment is

placed

in shipping container

(ISO

6681CC)

and is easy to

relocate

when the

petrol station

at the site

loses the meaning

(

mobility of

the whole

equipment). There is no need for construction of the new station, you simply relocate the original one and

continued with the sale

. We are reducing concerns about the profitability of your investment.

No excavation and construction works –

all equipment

ranging from

tanks

through

fuel dispensers

up to the

camera system

is

fitted in

the transport container that is

placed

on the surface

–

comfort of the

operation

remains unchanged

thanks to

roofing

,

access ramps with heated dispensing areas

and interactive

operation.

It is not a

building but a machine.

T

herefore it is unnecessary

to arrange

as many

permissions as

in the case of conventional

service stations.


All remaining

necessary permits will we arrangements for you, so we are able to deliver the gas station "turnkey"

.



Simple trouble-free initiation also

in locations

outside cities, in parking areas, in industrial estates, etc. Installation ant the startup takes 1 day.


Due

to the high mobility of the whole device it´

s enough

to bring the container to a destination, fits it to the base plate, fills with the fuels and start selling – we will provide minimal initial costs and due to the elimination of employees also higher revenues

.




The modularity of

the device

– if necessary,

simple replacement

for

larger

tanks

, eventually

buying

additional tanks

which

can be linked

with the original

petrol station

The overall

automatization (

free

serviceability

)

and

control in every season


Our petrol stations

are devices that operate completely independently and automatically. A built-in control systems periodically report their status

.



Slef-service automated operation – fuels dispenzing using credit cards and smart chip cards for private/business purposes – control with the log book.


In the

conventional petrol stations people can still drive-away without paying for the fuel filled-up

.

The fuel dispensing in our gas stations does not start if the customer does not insert the credit card into the card-reader, which also

identifies whether

he has enough funds for refueling

.




Or do your employees rob you?

Do they refuel their private cars and drive

for your money?

Gas stations MGST are

the solution for you

–

maybe you do not see it now but this way you lose in a year approximately € 1,000 per employee; If they are 10, your losses are more than € 10,000 annually.

Permanent

control

through

information transfer

(GPRS)

–

Service

in 24 hours


Mobile Self-service Automated Gas stations MGST contain bilt-in control systems that regularly report the status of

the whole device

– from the amount of fuels to the functionality of the device

.




The safety of

the whole operation




Built-in

autonomous systems

of ventilation

, fire protection

and

extinguishing

systems,

overall control systems of

the condition

, quality and levels of

stored

driving

fuels.

Absolute security


Control of

camera

and safety system. With mobile apps you can 24 hours a day control the neighborhood of the petrol station. Anti-theft protection.

Certification of

the entire device

according to

EU rules and standards

Compliance with valid

legal and

technical regulations and standards

of SR

and

EU

Possibility of the

complete

modification

to the requirements

of the investor


Despite the offer of standardized products we can manufacture and deliver a petrol station according to your requirements, we can adapt volumes, chamber system, power supply, design, colors, security features, etc … Anything that is needed.

Lower initial

costs

with

minimum operating costs

and

overall easy to operate without a single employee


Investment return

is much faster than with conventional "stations"

.

With our Mobile Self-service Automated Gas Stations MGST only earn

thanks to almost zero cost

.



Long lifetime and high resale value
Our petrol stations are precisely processed to the last weld

, for their manufacture we

use

only high-quality

and robust

materials what

guarantees

durability

for decades

.

The advantage

over the conventional

petrol stations

is the possibility of the general

overhaul

, as for

each machine.

These aspects

guarantee high

resale

value

of the gas stations

MGST

even at

after

dozens of

years

–

after all,

veterans

have

also a price.



Easy loading by crane or fork-lift – total mobility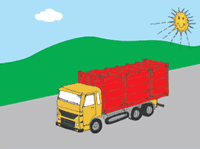 Transport of the  mobile petrol station by truck

to the designated location

.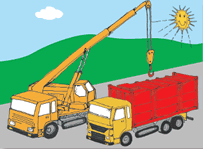 Unloading of the mobile petrol station by crane.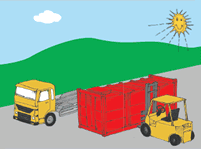 The subsequent
manipulation
of the petrol station
with the help of
the forklift
.
Quick simple assembly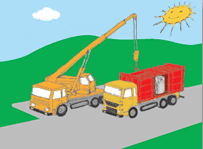 Unloading and placement of the mobile petrol station

onthe prepared

paved

area quickly and easily the help of the

crane.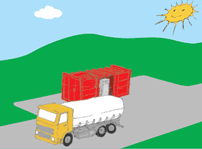 The road-tank fuels tanks.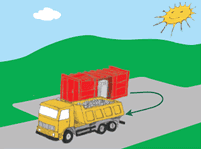 Mobile self-service petrol station

is

ready to use.

The first

car can

be refueled

.
Simple extension of the mobile petrol station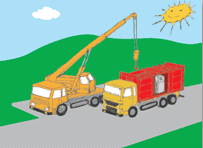 Next petrol station is brought

.

It will be unloaded and placed to the designated area by crane.
The road-tank fuels tanks of both mobile petrol stations.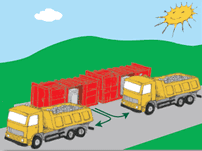 Mobile self-service petrol station

is

ready to use.

Two

cars can

be refueled at the same time

.
Simple

replacement of the equipment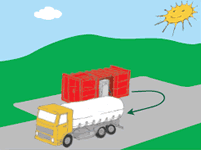 Emptying tanks of the petrol

station

with the help of

road-tank. Inside of tanks

must be cleaned.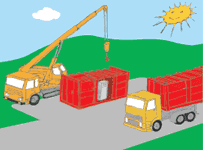 N

ew

mobile petrol

station is brought

(for example, onw with a larger

volume). Petrol stations

are replaced

by crane

.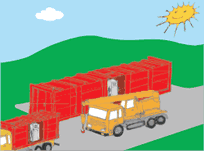 On-loading and and transport away of the old petrol station by truck.
Simple

disassembly

of he mobile petrol s

tation
Emptying tanks of the petrol

station

with the help of

road-tank – inside of tanks

must be cleaned.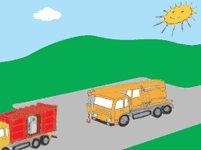 On-loading by crane and transport away of the petrol station by truck.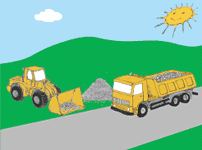 Removing

the paved area

under the

petrol station.

All used materials must

be

recycled

.
Simple

renovation of

the

equipment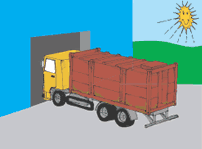 For the purpose of the renovation
carries the
truck
whole mobile

petrol station

to one of our

service partners.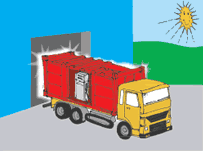 After the general overhaul

carries the truck whole mobile petrol station

back to

its

site

.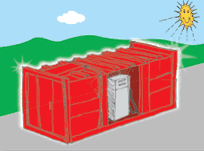 After placing the

station

and

refuelling its tanks is the mobile self-service gas station

ready to use again

.
High resale value of the mobile gas station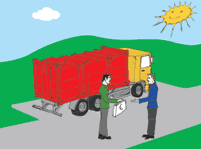 Thanks to quality workmanship and realization have our Mobile gas stations MGST high resale value.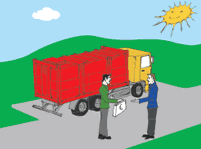 Upon mutual

agreement is the

mobile petrol station simple and quickly transported

to the new usage site.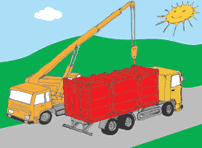 After placing the station and

fuelling its tanks

is the Mobile self-service automated gas station MGST ready to use again

for the new owner

.
UTILIZATION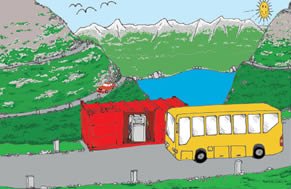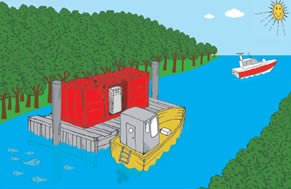 Mobile
Self-service
Automated

 

Gas Stations

MGST

can be used

for commercial purposes

as standard

petrol stations

for all kinds of motor vehicles

.

Sale of fuels

is carried out

through

the self-service payment

terminals

for credit cards

. There is no need

to employ

any

staff

as the

petrol station

is fully automated

.
By taking care of the environmental aspects can be our gas stations used as a full-valued petrol stations also for motor boats.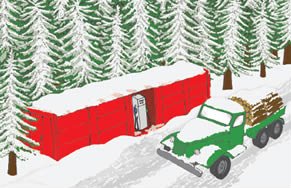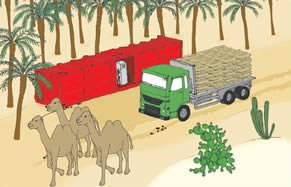 Petrol stations MGST
are independent
,
self-
operated
gas stations
. They are used for dispensing fuels for all types of motor vehicles. With a wide platform of the equipment can be our petrol stations also used in extreme climatic conditions, in the inhospitable places. Their operating temperature range is -25 ° C to + 55 ° C.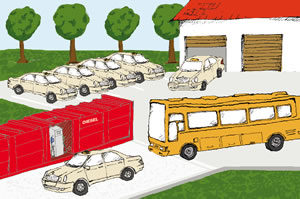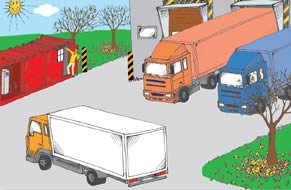 Mobile
Self-service
Automated
Gas Stations
MGST
can be used
for private,
respectively
business purposes
for all motor vehicles
in the yards of
companies
,
freight forwarding
halls
, bus terminals
,
etc. Dispensing

is carried out

via self-service dispensers (terminal for the
corporates
chip card). There is no need to employ any staff as the petrol station is fully automated. Thanks to the smart chip cards you can easily monitor the fuel dispensing and inscribe it into an electronic log book. You will have driving fuels under the fully control.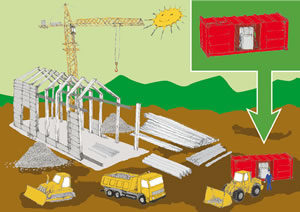 This

eliminates the need

to travel

to public

petrol stations and

of course

in larger amounts

you

buy

fuels

cheaper.

Thanks us you can

save

money.
Our petrol stations can be placed without unnecessary permissions also at the building site as a device (not a building). All cars and construction machines can be comfortably refueled directly at the site. The mobile petrol station can be relocated by crane at any time.

.
You can find all accessories for Mobile Self-service Automated Gas Stations MGST, its description and technical specifications,  in the section Accessories for Gas Stations MGST.
Among the accessories for Mobile Self-service Automated Gas Stations MGST  belong for example roofing, access ramps and heated dispensing areas, base plates and foundations, payment systems for public dipensation and card (chip) systems for non-public dipensation, camera and alarm systems.
Are you interested in Mobile Self-service Automated Gas Stations MGST?
Please contact us through contacts listed or fill out our Contact Form and leave us your requirements!
---